>
Mental Health Calendar 2020 – Dates for your Diary
Mental Health Calendar 2020 – Dates for your Diary
---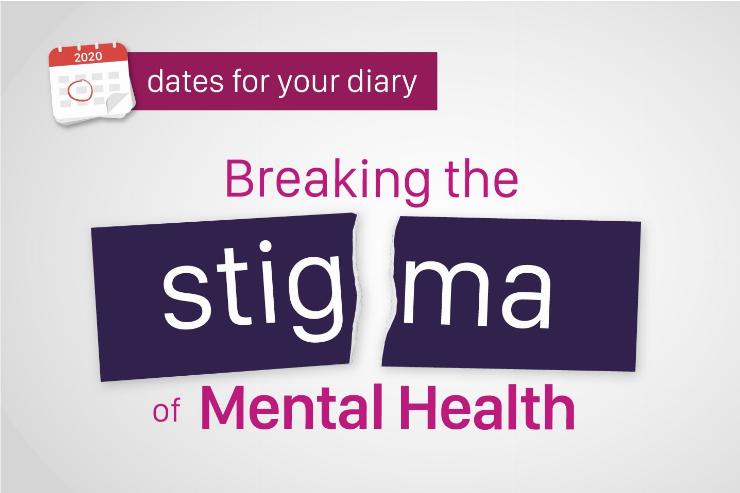 Mental health affects all of us every day. Whether we're experiencing difficulties in our lives, know someone who is going through problems or learning about these issues online, our mental wellbeing regularly changes and deserves our attention.
At Therapy for You, every day is a mental health awareness day. Our team work hard to help people overcome their concerns and achieve a more balanced, positive approach to life.
And while we understand others don't have the time available to make the same commitment, we are grateful that every year there are days dedicated to these important causes. Mental health issues are a year-round concern for many, but these days are an important way to open up conversations and cut away at the stigmas surrounding mental health.
To help encourage your awareness of these dates, we have created this dedicated Mental Health Calendar for 2020.
We hope that you can use this to continue to raise the profile of these occasions and the causes they represent and, if you are affected by these problems, you can find the support and assistance you need to help overcome them.
Your Mental Health Calendar for 2020
January in Mental Health
Festival of Sleep Day
3rd January
The first date of the Mental Health Calendar 2020 is dedicated to getting some well-deserved rest following the hectic Christmas and New Year holidays. The Festival of Sleep Day was created to celebrate this often unappreciated part of our routine to make sure we're well-rested for the start of a brand new year.
What can you do?
Well, the obvious answer here is sleep! Make arrangements where possible to give yourself an early night, and with the next day Saturday, sleep in if you can. Of course, for some, the concept of a good night's sleep can feel like a distant memory. If you have been affected by sleep problems, use this holiday as an opportunity to speak to someone about your issues so they can help you establish healthy habits moving forward.
Blue Monday
20th January
While not officially a holiday, Blue Monday is widely referred to as the most depressing day of the year. Based on a complicated formula involving the weather, salary and motivation levels, this is anticipated as a day people will feel more down than usual.
What can you do?
A good way to beat this centrepiece of the January Blues is to set straightforward, easy-to-achieve targets for the day. Accomplishing these will help keep your motivation levels up and prevent the occasion getting on top of you. Also, try surrounding yourself with people you care about - not only will this make the day more enjoyable for you, but hopefully boost the mood of everyone involved!
February in Mental Health
Children's Mental Health Week
3rd - 9th February
1 in 8 children and young people in the UK have a diagnosable mental health issue. Especially at a younger age, it can be difficult for children to understand or discuss how they're feeling. Children's Mental Health Week is dedicated to supporting the wellbeing of younger people and ensuring they know who to turn to talk about their emotions and concerns.
What can you do?
There are many ways you can get involved during this week, including encouraging your child's school to get involved or hold fundraising events to support children's mental health charities, such as Young Minds. Above all else, it is important that young people at this and all times feel comfortable expressing their feelings and receive the support they require.
Time to Talk Day
6th February
An important date on the Mental Health Calendar, Time to Talk Day is one of the key events in trying to end the discrimination that surrounds mental health problems. This day is devoted to encouraging conversations and breaking down the barriers that prevent people expressing their feelings.
What can you do?
One of the main reasons people don't reach out for support is they feel ashamed about how they feel, or that it isn't 'normal' to feel the way they do. Use this day as a motivator to speak about your feelings, or be there to listen if someone opens up to you.
March in Mental Health
Self-Injury Awareness Day
1st March
It is a difficult subject to discuss, but sadly self-harm is one of the most extreme responses to depression. This awareness day at the beginning of March is dedicated to educating those who don't self-injure on the reasons behind it, and reaching out to those who are suffering in silence so they can receive the support they need.
What can you do?
As mentioned, self-harm is not easy to talk about, but the latest statistics suggest that 6% of the population have hurt themselves. Even if it's just for one day, simply sharing information or advice online can make a world of difference to someone. And, if you or a loved one has been affected by this, use this day as a catalyst to seek support for the causes behind these actions.
Eating Disorders Awareness Week
2nd - 8th March
The number of hospital admissions for eating disorders has doubled in the past several years, and it impacts thousands of people of all ages and genders in the UK. This week highlights the need to end stereotypes painting eating disorders as 'fake' illnesses, and give people the help they need to develop a healthy relationship with food, whether this is through an unwillingness to eat or bulimia, or emotional overeating.
What can you do?
As well as educating yourself on the different types of eating disorders and how these affect people across the UK, view this week as an opportunity to assess your own eating habits. The food we eat and the amount we eat can have a powerful effect on our day-to-day mood and overall well-being. This week can be a powerful springboard to examine both and see whether adjustments could be made to your diet or eating habits.
University Mental Health Day
5th March
University life can be an incredibly difficult period of any young adult's life, involving a significant degree of stress and anxiety. While there remains a tendency to brand these individuals as 'snowflakes', this awareness day is important in changing the narrative about student mental health and ensuring they can access the help they need in these challenging circumstances.
What can you do?
If you know someone currently at university, be it a friend or family member, take a few minutes out of your day to give them a ring or send them a message to see how they're doing. Just knowing that somebody is thinking about them and checking on their wellbeing can be a big a powerful boost for them if they're feeling down or overwhelmed.
National Workouts & Wellbeing Week
23rd - 29th March
As we've discussed in another article, the impact of exercise on mental health can be incredible. We've therefore chosen to include National Workouts & Wellbeing Week on our Mental Health Calendar for 2020 as this event encourages people to dedicate more time to exercise and other pursuits like meditation, all with the aim of improving our physical and mental wellbeing.
What can you do?
If you have been meaning to get more exercise, this week is a great reason to organise a workout schedule and start reaping the benefits to your overall wellbeing. Or, if you have limited time or mobility, maybe try and bring in ways to add more activity to your current routine, like getting off the bus two stops early and walking the rest of the way.
Plus, this could be a catalyst to introduce yourself to mindfulness, which with practice can really help you cope with the stresses of everyday life and remain focused on the here and now.
April in Mental Health
Stress Awareness Month
All month
Held every month in the UK since 1992, Stress Awareness Month seeks to raise awareness of the causes and solutions for stress. While stress is something we all face in certain situations, a massive 74% of the UK population claim to have been unable to cope with their levels of stress at one time or another.
What can you do?
Managing the causes of your stress can be a significant challenge, especially if you attempt to do so alone. This month could be a good opportunity to try out some techniques to help reduce stress, such as yoga, meditation or therapy, to see if this can lead to improvements in your mood and overall health.
If you'd like to learn more, please consider our online Stress & Anxiety course.
UK Maternal Mental Health Matters Awareness Week
30th April - 6th May
'A mother's work is never done.' This may be true, but it can also leave a lasting impact on their mental health. With 1 in 10 women developing a mental health condition either during pregnancy or in the first year after their child is born, this awareness week was created to help those in need of support find a path to recovery.
What can you do?
Mothers feeling low mood after childbirth, also known as postnatal depression, is more common than you anticipate, but recovery can often only be achieved with the help of professional support. If you or your partner are affected in this way, we encourage you to get in touch to discuss your concerns and build techniques to overcome your low mood.
May in Mental Health
National Walking Month
All month
May is National Walking Month, where you're encouraged to leave the motor at home and stretch your legs exploring every space the UK has to offer. Even just a 20-minute walk around your area can do wonders for your mental wellbeing, from helping you get more sleep at night to encouraging helpful hormones that boost positivity.
What can you do?
Is there a green space nearby you've never found the time to explore? Make it your mission in May to take a stroll around this area at least once a week, and examine if it's made a difference to how you feel day-to-day.
Dying Matters Week
11th - 17th May
Death is a tough topic to confront for many of us, but it is something that affects all of us. Dying Matters Week is dedicated to opening up conversations about dying, death and bereavement, providing a safe space for people facing any of these to express their feelings and receive the relevant support.
What can you do?
It can be tough to confront our own mortality, but starting a conversation on this topic can help us feel more comfortable with this. Furthermore, if you have found it difficult to cope with a loss or bereavement, use this week as a chance to reach out to someone about your feelings, so you can receive support to help you move on with your life.
Mental Health Awareness Week
18th - 24th May
Mental Health Awareness Week seeks to raise awareness each year about specific areas of mental health and how these problems affect people across the UK and beyond. The focus for their 2020 event has not yet been announced, but we will update this space as soon as it is.
What can you do?
The Mental Health Foundation will typically provide free supporter packs based on the theme of the week, that you can then download and use to raise awareness of the condition they've chosen to focus on. But, regardless of the theme, this week is a welcome opportunity to open conversations about all forms of mental health issues.
June in Mental Health
National Growing for Wellbeing Week
3rd - 9th June
Bringing nature into your everyday life can be an effective way to reduce feelings of stress and anxiety, pick up a fun new skill and get you more active overall. Plus, much research confirms that people connected with nature experience less feelings of depression.
Gardening is a great way to embrace the outdoors more regularly, which is what National Growing for Wellbeing Week seeks to promote.
What can you do?
If you don't know your trowel from your secateurs, start off small on your journey down the garden path by purchasing a plant pot and sticking to some straightforward, year-round growers, like lettuce, peppers or tomatoes. Watching these grow day-by-day can give you a wonderful sense of accomplishment, as well as provide a relaxing distraction.
You might also want to get involved in the work done by Trust Links, a local independent charity in South East Essex supporting people's mental wellbeing through outdoor and community activities, including gardening.
Men's Health Week
15th - 21st June
Men's Health Week heightens awareness of preventable health problems for men and boys of all ages, covering both physical and mental wellbeing.
What can you do?
Many men struggle with opening up about problems they're having with mental health, so try and use this week as a springboard to start a conversation about the stigma surrounding men and mental health, starting with those closest to you.
In fact, why wait? If you're worried someone is struggling, reach out to them now and show your support.
International Fathers' Mental Health Day
21st June
Life as a new father comes with many changes and stresses that can have a detrimental effect on mental health. This day is dedicated to raising awareness of the struggles some fathers go through adapting to this monumental shift in responsibilities.
What can you do?
With so much focus on new mums, it can be easy to neglect the feelings of new fathers and check how they're adjusting. Take this day to get in touch with new parents or parents of younger children you know just to check on how they're doing – that positive connection can make a world of difference. Our online course on Managing Stress in Parenthood offers practical steps to managing your mood and become more comfortable with life as a parent.
July in Mental Health
Talk To Us (Samaritans)
All month
Every July, Samaritans branches across the UK and Ireland host fantastic events to let people know they're here to listen 24 hours a day, including their Big Listen event.
What can you do?
Samaritans will be hosting tons of events and talks throughout July, so take this opportunity to visit your nearest branch and see what they say. It could spur you to become a volunteer, give you inventive fundraising ideas, or simply grow your perspective on your own mental health and the wellbeing of those around you.
If you want to do your part now to support these amazing volunteers, why not share some Samaritans information online – you never know who might benefit from it.
September in Mental Health
World Suicide Prevention Day
10th September
Organised by the International Association for Suicide Prevention and the World Health Organisation, this day is designed to encourage worldwide action to help prevent suicide.
What can you do?
Suicide is a tough topic for many to confront, but it's important not to shy away from these conversations. Instead of focusing on the grim nature, perhaps take this as a chance to note down the things you're grateful for in life, from your friends and family to the taste of a good cup of tea.
If you are struggling with severe depression or another mental health crisis, seek assistance by calling the numbers here.
October in Mental Health
International Day of Older Persons
1st October
We have always been taught to respect our elders, and this awareness day is geared to highlight and celebrate the important contributions our oldest members of society have made on the world.
What can you do?
As our lives can change significantly as we get older and begin to face a number of life-changing events, such as retirement, it is important that if this is affecting your wellbeing you have someone to talk to. Speak to us about our courses for adjusting to later life.
National Work Life Week
7th - 11th October
This week is an opportunity for employers to promote how they provide a positive work-life balance to their staff, and generally raise awareness for this important aspect of life.
What can you do?
If your work-life balance is causing you difficulty, getting involved in our stress management courses can introduce techniques to reducing this burden on your life. Plus, you could use this as a chance to start a conversation in your company about flexible working and alternatives that haven't been considered before.
World Mental Health Day
10th October
An initiative created to get people talking about the most prevalent mental health issues across the globe, World Mental Health Day 2020 is themed around providing good support to people in the workplace.
What can you do?
World Mental Health Day is a great motivator to reflect and be mindful of your own mental health, particularly this year on the subject of depression, which is at the root of many suicides. Perhaps host a talk or fundraising event at your workplace to support Samaritans and other charities battling against depression.
November in Mental Health
National Stress Awareness Day
4th November
Held on the first Wednesday of November each year, the purpose of this day is to raise awareness of psychological distress caused in the workplace and other areas of life.
What can you do?
A certain level of stress can be a powerful motivator, but at its extremes it can be mentally, emotionally and physically exhausting. Perhaps speak to your employer about creating a stress awareness space where people can be open and honest about any issues they're facing, and if you'd like support in how to manage your stress, consider our stress management courses.
Anti-Bullying Week
Date TBC
Organised by the Anti-Bullying Alliance, this week is designed to raise awareness of bullying in all areas of life, from school and the workplace to our home lives, and discuss how to prevent this going forward.
What can you do?
Bullying doesn't have an upper age limit, and can cause significant feelings of stress, anxiety and depression. Check if you can organise or support an event or fundraiser around preventing bullying at your child's school, and even do something similar in your workplace about the importance of being respectful and kind to colleagues and others.
International Survivors of Suicide Loss Day
21st November
Established since 1999, the purpose of this day is to raise awareness of those affected by suicide and loss and bring them together among feelings of support, unity and togetherness.
What can you do?
Dealing with a life-changing loss in any form can be one of the toughest things to overcome in life, which is why we hold helpful courses on bereavement and loss. Take this opportunity to reach out to those you know have endured a loss recently, whether it's a death in the family, the end of a relationship or losing their job, to make sure they know you're there for them.
December in Mental Health
Anger Awareness Week
Date TBC
The aim of Anger Awareness Week is to raise awareness of strategies and techniques that help people stay calm and approach their anger in a healthy, manageable way.
What can you do?
We can all feel fed up and frustrated, but allowing anger to spill over too often can cause significant problems to your health and personal life. If you find yourself constantly losing your cool, get in touch and take our psychoeducational courses on anger management.
Make Every Day About Your Mental Health
We hope our Mental Health Calendar for 2020 encourages you to jot down some of these dates in your diary and make a difference this year. But do remember that every day is an opportunity to think about your own mental health and the wellbeing of those around you.
At Therapy for You we're here to make people feel better by understanding how you feel, build up coping mechanisms to manage these feelings, and gradually overcome life's problems as best you can.
If you are struggling with your emotional health and want to get on the path to feeling better, contact us to discuss the treatment options available to you.
---
Crisis link