>
Mental Health Calendar 2019 – Dates for your Diary
Mental Health Calendar 2019 – Dates for your Diary
---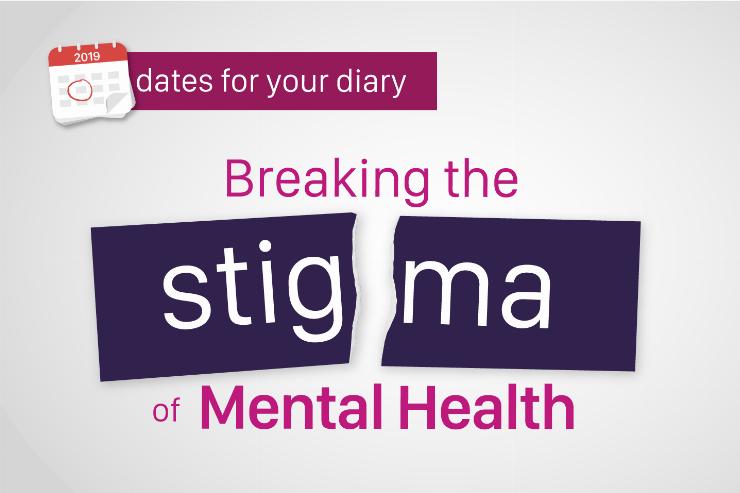 Mental health affects all of us every day. Whether we're experiencing difficulties in our lives, know someone who is going through problems or learning about these issues online, our mental wellbeing regularly changes and deserves our attention.
Here at Therapy for You, every day is a mental health awareness day. Our team work hard to help people overcome their concerns and achieve a more balanced, positive approach to life.
While facing mental health issues is an ongoing battle for many, there are some significant days throughout the year dedicated to these important causes. We've put together this handy calendar of the different national campaigns and awareness days on mental health concerns held this year.
Hopefully you can lend your support to these incredible causes in 2019 and maybe even use these as springboards for change for your own health and wellbeing.
List of Mental Health Awareness Days & National Campaigns 2019
MAY
All month
May is National Walking Month, where you're encouraged to leave the motor at home and stretch your legs exploring every space the UK has to offer. Even just a 20-minute walk around your area can do wonders for your mental wellbeing, from helping you get more sleep at night to reducing helpful hormones that boost positivity.
What can you do?
Is there a green space nearby you've never found the time to explore? Make it your mission in May to take a stroll around this area at least once a week, and examine if it's made a difference to how you feel day-to-day.
13th – 19th May
Mental Health Awareness Week seeks to raise awareness each year about specific areas of mental health and how these problems affect people across the UK and beyond. The focus for 2019 is around body image.
What can you do?
Did you know that 30% of all adults have been overwhelmed by stress relating to body image? Issues with body image can cause us to have a difficult relationship with food, be it refusal to eat to maintain an "attractive" body or problems with emotional overeating.
The Mental Health Foundation offers a free supporter pack to help you raise awareness of this condition and help people across the country have healthier feelings towards their bodies.
JUNE
National Growing for Wellbeing Week
3rd – 9th June
Bringing nature into your everyday life can be an effective way to reduce feelings of stress and anxiety, pick up a fun new skill and get you more active overall. Plus, much research confirms that people connected with nature experience less feelings of depression.
Gardening is a great way to embrace the outdoors more regularly, which is what National Growing for Wellbeing Week seeks to promote.
What can you do?
If you don't know your trowel from your secateurs, start off small on your journey down the garden path by purchasing a plant pot and sticking to some straightforward, year-round growers, like lettuce, peppers or tomatoes.
Watching these grow day-by-day can give you a wonderful sense of accomplishment, as well as provide a relaxing distraction.
10th – 16th June
Men's Health Week heightens awareness of preventable health problems for men and boys of all ages, covering both physical and mental wellbeing. In 2019 the focus for MHW is the impact of inequality and deprivation on Men's Health.
What can you do?
Many men struggle with opening up about problems they're having with mental health, so try and use this week as a springboard to start a conversation about the stigma surrounding men and mental health, starting with those closest to you.
In fact, why wait? If you're worried someone is struggling, reach out to them now and show your support.
International Fathers' Mental Health Day
19th June
Life as a new father comes with many changes and stresses that can have a detrimental effect on mental health. This day is dedicated to raising awareness of the struggles some fathers go through adapting to this monumental shift in responsibilities.
What can you do?
It can be easy to neglect the feelings of new fathers and check how they're adjusting. Take this day to get in touch with new parents or parents of younger children you know just to check on how they're doing – that positive connection can make a world of difference.
If you're a new parent experiencing difficulties adjusting to this huge change, our online course on Managing Stress in Parenthood offers practical steps to managing your mood and become more comfortable with life as a parent.
JULY
All month
Every July Samaritans branches across the UK and Ireland, hosting fantastic events to let people know they're here to listen 24 hours a day, including their Big Listen on the 24th July.
What can you do?
Samaritans will be hosting tons of events and talks throughout July, so take this opportunity to visit your nearest branch and see what they say. It could spur you to become a volunteer, give you inventive fundraising ideas, or simply grow your perspective on your own mental health and the wellbeing of those around you.
If you want to do your part now to support these amazing volunteers, why not share some Samaritans information online – you never know who might benefit from it.
SEPTEMBER
10th September
Organised by the International Association for Suicide Prevention and the World Health Organisation, this day is designed to encourage worldwide action to help prevent suicide.
What can you do?
Suicide is a tough topic for many to confront, but it's important not to shy away from these conversations. Instead of focusing on the grim nature, perhaps take this as a chance to note down the things you're grateful for in life, from your friends and family to the taste of a good cup of tea.
If you are struggling with severe depression or another mental health crisis, seek assistance by calling the numbers here.
OCTOBER
7th – 11th October
This week is an opportunity for employers to promote how they provide a positive work-life balance to their staff, and generally raise awareness for this important aspect of life.
What can you do?
If your work-life balance is causing you difficulty, getting involved in our stress management courses can introduce techniques to reducing this burden on your life.
Plus, you could use this as a chance to start a conversation in your company about flexible working and alternatives that haven't been considered before.
10th October
An initiative created to get people talking about the most prevalent mental health issues across the globe, 2019's World Mental Health Day is based on suicide prevention.
What can you do?
World Mental Health Day is a great motivator to reflect and be mindful of your own mental health, particularly this year on the subject of depression, which is at the root of many suicides.
Perhaps host a talk or fundraising event at your workplace to support Samaritans and other charities battling against depression.
NOVEMBER
6th November
Held on the first Wednesday of November each year, the purpose of this day is to raise awareness of psychological distress caused in the workplace and other areas of life.
What can you do?
A certain level of stress can be a powerful motivator, but at its extremes it can be mentally, emotionally and physically exhausting.
Perhaps speak to your employer about creating a stress awareness space where people can be open and honest about any issues they're facing, and if you'd like support in how to manage your stress, consider our stress management courses.
11th – 15th November
Organised by the Anti-Bullying Alliance, this week is designed to raise awareness of bullying in all areas of life, from school and the workplace to our home lives, and discuss how to prevent this going forward.
What can you do?
Bullying doesn't have an upper age limit, and can cause significant feelings of stress, anxiety and depression.
Check if you can organise or support an event or fundraiser around preventing bullying at your child's school, and even do something similar in your workplace about the importance of being respectful and kind to colleagues and others.
International Survivors of Suicide Loss Day
23rd November
Established since 1999, the purpose of this day is to raise awareness of those affected by suicide and loss and bring them together among feelings of support, unity and togetherness.
What can you do?
Dealing with a life-changing loss in any form can be one of the toughest things to overcome in life, which is why we hold specialist courses on bereavement and loss.
Take this opportunity to reach out to those you know have endured a loss recently, whether it's a death in the family, the end of a relationship or losing their job, to make sure they know you're there for them.
DECEMBER
1st – 7th December
The aim of Anger Awareness Week is to raise awareness of strategies and techniques that help people stay calm and approach their anger in a healthy, manageable way.
What can you do?
We can all feel fed up and frustrated, but allowing anger to spill over too often can cause significant problems to your health and personal life. If you find yourself constantly losing your cool, get in touch and take our psychoeducational courses on anger management.
Make Every Day About Your Mental Health
These are the various awareness days and campaigns on mental health you should note down in your diary if you want a make a difference. But every day is an opportunity to think about your own mental health and the wellbeing of those around you.
At Therapy for You we're here to make people feel better by understanding how you feel, build up coping mechanisms to manage these feelings, and gradually overcome life's problems as best you can.
If you are struggling with your emotional health and want to get on the path to feeling better, contact us today on 01268 739 128 to discuss the treatment options available to you.
---
Crisis link