Available through Therapy For You
Typed Therapy
Mental health support that's there when you need it. Discover secure, one-to-one text therapy from ieso Digital Health, free for NHS patients in North East and South East Essex.
Your local provider of NHS Talking Therapies for Colchester, Tendring, Southend, Castle Point & Rochford.
Free online text-based therapy for North East and South East Essex
When you can't find the words to verbally express how you feel, typed therapy by ieso empowers you to communicate with a fully qualified therapist at a time and place that suits you.
Accessible on your phone, tablet or another internet-connected device, ieso lets you text message your thoughts and feelings to an accredited professional safely and privately. Using Cognitive Behavioural Therapy (CBT) techniques, you'll gain the skills to manage and overcome issues affecting your mental health – from anxiety and depression, to OCD and PTSD.
No video calls. No face-to-face meetings. No travel. ieso is free online counselling and therapy that gives you the support you need around your circumstances.
Total flexibility
Online therapy available 7 days a week, 6am - 11pm
Completely confidential
No face-to-face meetings, just fully encrypted online chat
Zero travel
Remote therapy accessible from anywhere
Suits your needs
Therapy sessions are fitted around your commitments
Practical, lifelong skills
Learn CBT techniques you'll use in daily life
Why typed therapy?
Talking about your problems isn't for everyone. Typed therapy can help you feel much more relaxed about opening up with your thoughts, feelings and behaviours than if you were sitting in front of a therapist or speaking to them over a video call.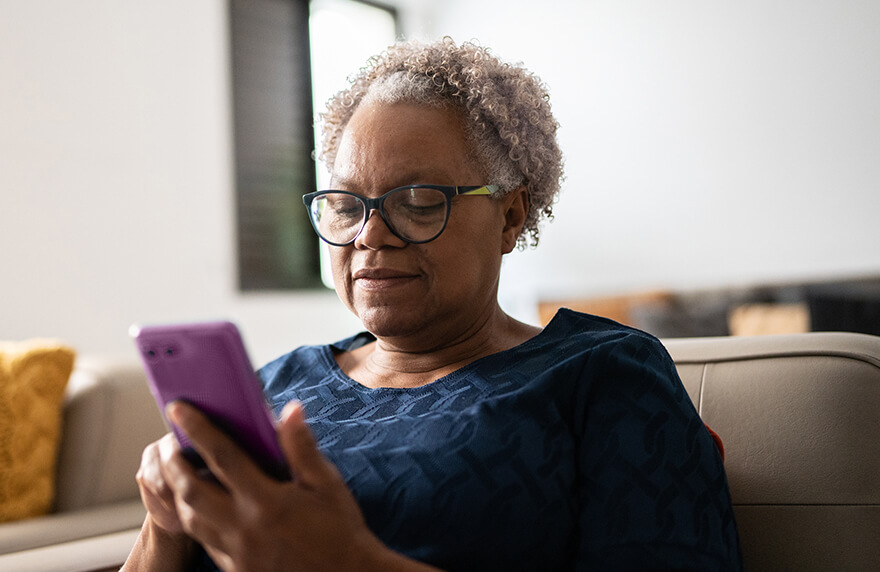 Studies show digital therapy platforms are just as effective as in-person therapy, often having an impact in as little as 4-12 sessions

Appointments are available 7 days a week, 6am - 11pm, and scheduled around your day-to-day responsibilities

You can have your therapy sessions anywhere that feels most comfortable to you – whether you're at home or on the go

Our online chat platform is completely secure and encrypted, and because everything is typed, no one can eavesdrop on your conversations

There's no need to travel, saving you plenty of time, hassle and expense

You can always message your therapist in-between sessions to ask questions or for help with exercises

You can revisit your text conversations with your therapist at any time, which can help you reflect on your thoughts and support your progress
Who is ieso Digital Health?
Therapy For You works in partnership with ieso Digital Health to give our service users in Essex free access to their outstanding text-based therapy. For over two decades their online mental health platform has helped thousands of people manage and overcome problems affecting their wellbeing, and learn practical CBT skills that serve them for life.
Over 110,000 users since ieso was founded in 2000
600+ qualified and accredited therapists and psychological wellbeing practitioners (PWPs)
Over 580,000 hours of therapy logged through the years
700,000,000 data points gathered in their world-leading mental health dataset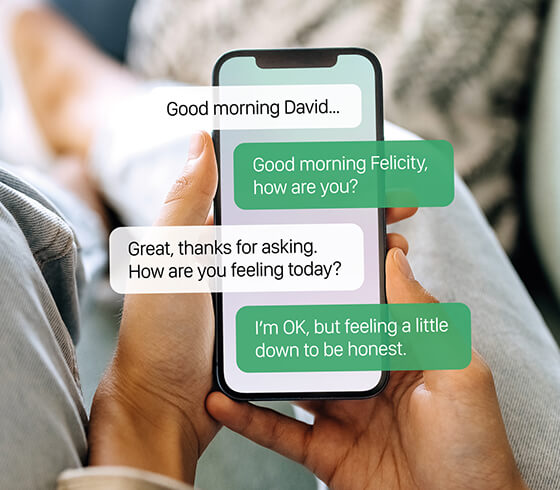 95% of users would recommend ieso to friends and family.
Here's what some of their users say about their service:
I cannot praise ieso highly enough… I have learnt so much and have many tools that I can now use to remind me of all I have learnt. You need to, and are expected to, put in effort to try and help yourself, along with so much help, empathy and kindness from your therapist.
Janet
After 12 sessions with my amazing therapist I left with a variety of tools to help me manage my anxieties going forward. It's helped me more than I thought and I have a strong well-being plan in place for the future.
Kirsty
I found the format – online text-based – very easy to do and clarifying. The structure of the sessions enabled me to better frame my issues, understand my behaviour and find new ways to behave.
Damian
I could download the whole therapy session afterwards to re-read it and think about it. I had a good number of sessions and felt at the end that I had made real positive progress!
Ruth
I have had face-to-face counselling several years ago, but this online experience was far better. The counsellor was able to get me to open up better and provide suitable training and exercises over and in-between the sessions. Definite improvement in my mental health.
Steven
At first, I wasn't sure about live text help. However, after a few sessions I realised it helped me talk through my problems easier than in person and gave me time to think and reflect on questions and issues I had which I believe I would have struggled to do chatting to someone.
Richard
I initially was a bit sceptical about the therapy as I did not think communicating by messages via the platform would suit me, but in fact it did as it gave me more time to think, and more anonymity to say how I really felt without the fear of being judged.
Manue
The text-based service was perfect for what I needed, I could fit it around other commitments easily. My therapist was great, and I genuinely feel so much better than when I started!
Terrie
How does ieso typed therapy work?
It is easy to get started with ieso's digital counselling and online therapy. Here is a step-by-step breakdown of what you can expect:
1.

Self-refer yourself to ieso

First, answer the questions at the bottom of this page, and then complete ieso's short form to check your eligibility. It only takes a minute or two to find out if typed therapy is available to you.

Once you're confirmed, create your account, complete the questionnaires, and ieso will find the right therapist for you. No need to get a referral from your GP – you can sign up straight away!
2.

Book your first therapy session

Once you're matched with your online therapist, you'll be able to book the date and time for your first session. Your therapist will check in with you before this and every session to tailor your treatment around your needs and mood.
3.

Chat to your therapist

Start your 30-60 minute weekly sessions. Your therapist will create a treatment programme just for you, identifying your goals and working with you to break down your problems and change unhelpful thoughts and behaviour patterns.
4.

Practise between sessions

Between sessions, your therapist will ask you to keep a journal and practise thinking exercises in order to build lasting, helpful habits. You can also message your therapist at any time if you have any questions or difficulties with your tasks.
5.

Monitor and review your progress

By completing questionnaires before each session, you and your therapist will track your progress and target your most persistent, upsetting areas.
6.

Support after your treatment ends

Once your series of sessions end, we will check-in on your progress, and you can access your past conversations anytime you choose.

What does ieso treat?
ieso's text therapy treats a wide range of common mental health problems. From struggles with anxiety or depression, to trouble with sleep or phobias – ieso's online therapists help you gain the skills to manage your concerns and make a positive, lasting difference to your life.
Obsessive compulsive disorder (OCD)
Post-traumatic stress disorder (PTSD)
Access ieso therapy in Essex
ieso's high-quality digital healthcare service is accessible to anyone in Therapy For You's catchment areas in North East and South East Essex. If you believe you would benefit from typed therapy, we can help you get started with their powerful platform and begin your journey to feeling better through CBT.
North East Essex typed therapy services
Here are the areas and postcodes covered by our mental health services, available for anyone aged 16 or over.
Clacton-on-Sea

Colchester

Frinton-on-Sea

Harwich

Manningtree

Tendring

Walton-on-the-Naze

West Mersea
South East Essex typed therapy services
Here are the areas and postcodes covered by our mental health services, available for anyone aged 18 or over.
Canvey Island

Castle Point

Hadleigh

Leigh-on-Sea

Rochford

Shoeburyness

Southend-on-Sea

Westcliff-on-Sea
Have any questions about ieso typed therapy?
Online therapy is still a relatively new concept, so we understand if you want to know more about it. Here are some of our most frequently asked questions about typed therapy.
What is Cognitive Behavioural Therapy (CBT)?

Cognitive Behavioural Therapy, or CBT as it's commonly known, is a form of talking therapy used to treat many types of common mental health problems – from anxiety management strategies to overcoming panic attacks, phobias and stress.

Cognitive restructuring techniques focus on breaking the vicious cycles that can form between our thoughts, feelings and behaviours, affecting our overall mood. By introducing practical emotional wellbeing tools, CBT teaches you how to challenge negative thoughts and patterns for lasting improvements to your mental health.

CBT is also an evidence-based treatment, meaning it has proven to be effective in peer-reviewed scientific experiments.
How long will it take me to feel better?

There is no set number of therapy sessions that ieso prescribes – it is always handled on a case-by-case basis. Consistently practising the CBT skills you learn between sessions can speed up the process. As a rough guide, anxiety, stress or depression therapy online can often be addressed in between 4 and 12 sessions.
How long do I have to wait for my first appointment?

Once your account with ieso is set up, a therapist will reach out about your first session of text-based counselling. This is typically no longer than 10 days after you sign up, but waiting times may be slightly longer during busy periods.
When can I schedule appointments?

You can schedule appointments 7 days a week between 6am and 11pm to suit your daily routine. ieso's sessions are available early in the morning, at night and at weekends.
What happens at the end of my treatment?

After completing your course of sessions, you can log into the ieso platform for up to 20 years after discharge. This allows you to revisit your text conversations, goals and resources at any time to reflect on what you learned, and help prevent relapse.

You are also welcome to return for more virtual therapy sessions at any time if you find yourself struggling (provided you're still registered with a GP in Therapy For You's catchment area, or another area where ieso is contracted by the NHS).
How simple is ieso's online mental health platform to use?

ieso's digital therapy platform is easy to navigate for anyone who can surf the internet, and accessible via your computer, tablet or smartphone. Plus helpful guides are provided when you first log in to help you feel confident using their text-based mental health services.
How much does ieso's online therapy cost?

Through ieso's partnership with Essex Partnership University NHS Foundation Trust (EPUT), their service is free for all users in Therapy For You's catchment areas in North East and South East Essex (provided you are registered with a GP in these areas).
What are the benefits of typed therapy?

There are several advantages that typed therapy offers over other therapy pathways such as face-to-face, group or video call sessions, including:

The anonymity of typed therapy can make it easier to open up about your feelings
Typed therapy can take place anywhere on any device with an internet connection
You don't have to travel to a therapist in person, saving you time and money
All conversations are encrypted and confidential, with no risk of others overhearing what you say
You can fit your online therapy around your schedule
Is ieso typed therapy better than self-help therapy?

There is no definitive answer to this, as different people respond better to different types of therapy. However many people prefer typed therapy to self-help courses:

You're guided by a qualified therapist, making it easier to stick to your treatment plan and get your questions answered in real-time
Weekly sessions allow for a routine to be established
Therapy is personalised around your specific needs
Because typed therapy is more targeted, it can often produce results faster
Is ieso online therapy effective?

Typed online therapy has proven to be equally as effective at treating common mental health problems, including anxiety, depression, stress and sleeping disorders, as face-to-face CBT sessions.
Is ieso typed therapy suitable for everyone?

While ieso typed therapy is available to everyone, it might not prove to be the right approach to improve your mental wellness. In these circumstances, Therapy For You provides a range of alternative therapy services that may better suit your needs, including:

One-to-one, face-to-face therapy
Group therapy
Phone therapy (or teletherapy)
Video calls
Online CBT courses

Learn more about our ways to get help.
Is ieso's platform secure and confidential?

Yes, ieso offers a secure, encrypted platform, where all information you enter is safely stored and kept between you and your therapist. However, you'll understand that your therapist may sometimes need to share information as required with other NHS professionals (such as your GP), either to support your care and treatment, or to ensure your safety and the safety of those around you.

In the event of needing to seek help from others on your behalf, you'll always be informed in advance.
Who are ieso's therapists?

ieso has created a virtual support network of over 600 fully qualified and accredited therapists and psychological wellbeing practitioners (PWPs). You can find out more about their exceptional team of mental health professionals here.
Why do I have to complete questionnaires?

We understand being asked to repeatedly complete questionnaires can be frustrating. However, these mental health assessments are crucial to ieso's therapists understanding your current state of mind. This means they can track your progress and intervene if they notice any sharp decline in your mood.

The NHS also requires everyone who signs up for typed therapy to complete these questionnaires, which is why ieso ask you to do these at the start of each session.
What if ieso typed therapy is not right for me?

Everyone's path to recovery is different. If typed therapy does not help treat your mental health conditions, we provide a range of alternative ways to get help for our patients in Essex:

Get in touch with us today and let us help you find your path to feeling better.
Get started today… with Typed Therapy
Ready to start your journey to feeling better? Self-refer to ieso's online text-based therapy and find the support to overcome your mental health challenges. Check you are eligible for ieso and that typed therapy is the right treatment for you.
Not interested in typed therapy?
If you don't believe ieso typed therapy is right for you, Therapy For You provides a range of treatment pathways so you receive the help you need. From 1-1 therapy to online CBT courses, explore our wider options.
Ready to start your journey to feeling better with Therapy For You?
Discover our treatment pathways, gain lifelong techniques to improve your wellbeing and embrace a happier, healthier future.
Omni Online CBT
Instantly begin an online video course delivered by trained NHS clinicians.
Talking Therapies
Make a self-referral for our 1-1, group, phone or video therapy sessions.
ieso Typed Therapy
Check your eligibility for ieso and text a qualified therapist around your schedule.
Crisis
link