Loss & Bereavement Help Essex
Dealing with a life-changing loss, be it bereavement, becoming unemployed, the end of a relationship or anything else, can be one of the toughest things to go through in life. While we all have our own ways of coping, sometimes it can be a real struggle to overcome all of the grief associated with loss. If you think you need support to cope with a recent loss, help is at hand.
Loss affects everyone differently – some may seem barely affected whilst other people can take weeks or months to recover. Usually the more significant the loss, the more severe the grief. But even the smallest losses can lead to intense grief. If you feel loss and grief are starting to have an extended and severe impact on your day-to-day life, we can offer treatments and therapies to help you cope better.
Why not get started on the right path now with one of our online CBT courses?
Our Omni Online CBT courses are created so you can manage your own mental health and wellbeing when and where it suits you. Gain instant access to immediate treatment in the form of video-driven, bite-size courses, all developed and delivered by experienced NHS clinicians. With each course dedicated to a specific mental health problem, get help mastering techniques to improve your wellbeing, and start one of our CBT-based courses now.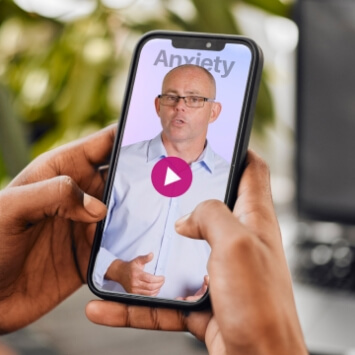 Speak about what's troubling you face-to-face with a qualified, supportive therapist – in the comfort and security of a private, confidential setting. Here you can openly discuss your feelings, experiences and symptoms, working one-on-one with your therapist to identify beneficial techniques and skills tailored to your specific circumstances.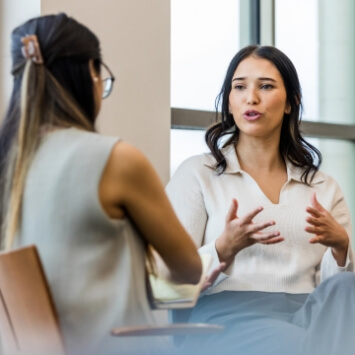 Explore your emotions and develop lifelong techniques, surrounded by people who share the same challenges as you. Our safe, confidential group therapy sessions are led by qualified mental health professionals that get you talking about your thoughts and feelings with peers who understand your situation. Together, take significant steps to feeling better.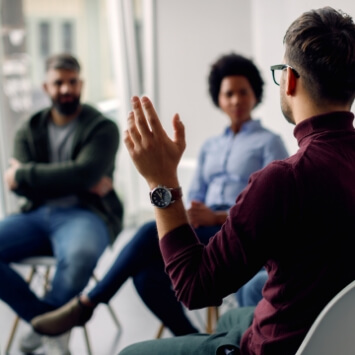 If you cannot attend regular therapy in person, we can bring a qualified therapist to you through our dedicated video calls. Speaking with your therapist on camera at a time and place that suits you, you can openly discuss any issues that are causing you distress or making you feel uncomfortable. You'll learn new techniques to help you overcome your problems and start you on your path to feeling better.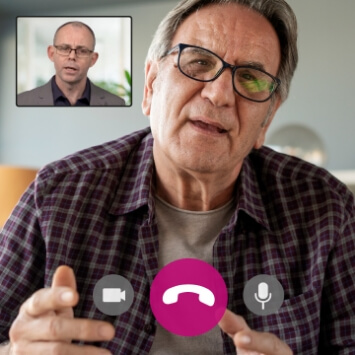 If you have a busy family life, mobility issues or other barriers to getting out and about, we can make sure you still have access to the support you need through phone therapy. We arrange calls between you and a qualified therapist throughout the day, meaning you can always access mental health guidance and support at a time and place that's convenient for you.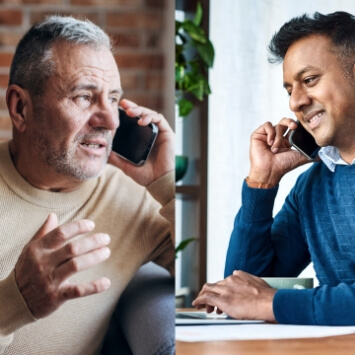 Mental health support that's there when you need it. When you can't find a voice to express how you feel, typed therapy by ieso enables you to text your fully qualified therapist at any place and time. Based on proven CBT techniques, you can discuss your concerns in a safe, private and relaxed way, maintaining a record of conversations you can always revisit to support your recovery.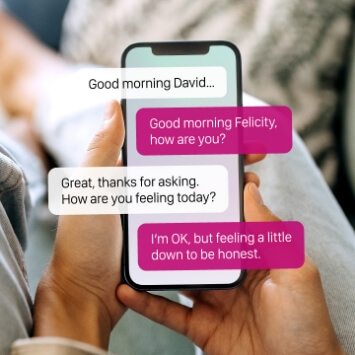 Who can access loss & bereavement support in Essex?
Therapy For You's free mental health services are accessible in our North East and South East Essex catchment areas. If you are registered with a GP in the Colchester, Tendring, Southend, Castle Point and Rochford regions, we are ready to help you.
Mental health services in North East Essex
Here are the areas and postcodes covered by our mental health services, available for anyone aged 16 or over.
Clacton-on-Sea

Colchester

Frinton-on-Sea

Harwich

Manningtree

Tendring

Walton-on-the-Naze

West Mersea
Mental health services in South East Essex
Here are the areas and postcodes covered by our mental health services, available for anyone aged 18 or over.
Canvey Island

Castle Point

Hadleigh

Leigh-on-Sea

Rochford

Shoeburyness

Southend-on-Sea

Westcliff-on-Sea
Ready to start your journey to feeling better with Therapy For You?
Discover our treatment pathways, gain lifelong techniques to improve your wellbeing and embrace a happier, healthier future.
Omni Online CBT
Instantly begin an online video course delivered by trained NHS clinicians.
Talking Therapies
Make a self-referral for our 1-1, group, phone or video therapy sessions.
ieso Typed Therapy
Check your eligibility for ieso and text a qualified therapist around your schedule.
Crisis
link