>
Activity scheduling and what to expect from CBT
Activity scheduling and what to expect from CBT
---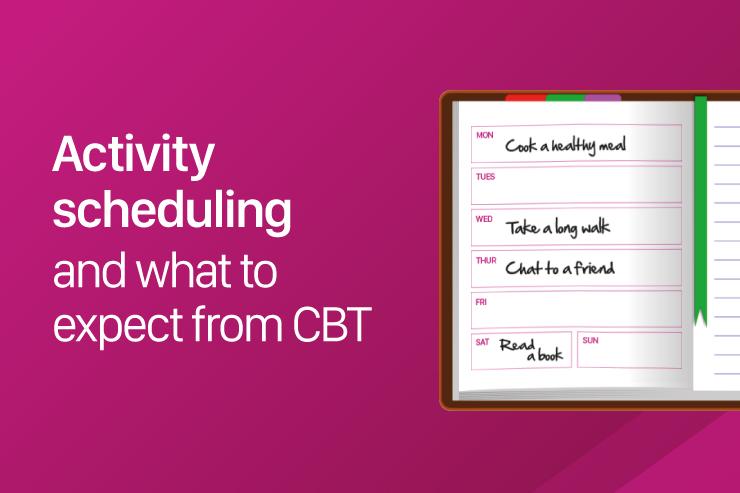 It's understandable to feel nervous about starting therapy.
In this article, we wanted to take some time to discuss what you might expect from it and hopefully put your mind at ease if you have any reservations about taking the first step. Our therapists have heard first-hand about the thoughts and feelings that might hold someone back from starting this journey, and we hope to address any doubts you may be having here.
Firstly, we want to assure you that when speaking to a therapist, you are very much in control. You are under no obligation to open up about your life until you're comfortable doing so – you can go entirely at your own pace and you will decide what you want to get out of it.
To support this, we provide a range of talking therapies that introduce tools and techniques that can make your life feel more balanced and productive.
Covid-19 has created a heightened sense of emotional turbulence for many of us. But Cognitive Behavioural Therapy, or CBT as it is commonly known, will not only help you through these uncertain times, but also guide you through future stressful events and change.
CBT aims to introduce exercises that can help you change the way you think and behave in the long-term. Below we present a quick preview of one of our exercises, Activity Scheduling, to give you some insight into what you can expect.
Activity Scheduling
Activity scheduling helps you focus on increasing activities you enjoy and those that give you a sense of achievement, which in turn helps to boost your mood.
The first step is to examine what you're currently doing day-to-day and rate how much enjoyment and achievement you gain from these activities. Each task is rated for Enjoyment or Achievement on a scale of 0 to 5.
We would typically track this in a dedicated diary. For now, you could just do this on a piece of paper or in a diary you already own. Make a note of what you're doing each day for a week and the level of enjoyment or achievement you gain from it.
It may prove too difficult to record everything – just focus on trying to get down as much as you can when you can. Look back in a week's time and evaluate your entries. Consider what you are doing and why you are doing it, and if there are areas you would like to change?
Perhaps your week is packed with activities, but many of them don't bring you much joy. They may be too mundane, or are things you "have to do" rather than "want to do". Conversely, you may find your week is quite empty, giving you too much time to dwell on negative thoughts.
Once you have this insight, you can prepare a new diary for the next week and schedule in activities that bring you more joy or achievement than those from the week before. It doesn't have to be anything extravagant – even a walk in the countryside or calling a family member can make a big difference.
Planning in advance will help give you the motivation to pursue activities. However, should circumstances change, you can always amend your diary as you see fit. It's a very simple concept, but an incredibly powerful one when you complete it.
This is just scratching the surface of some of the exercises you can expect from therapy. For more support, browse our online courses where our therapists can guide you through exercises such as these.
---
Crisis link