>
Taking CBT Digital: The Benefits of Online Therapy
Taking CBT Digital: The Benefits of Online Therapy
---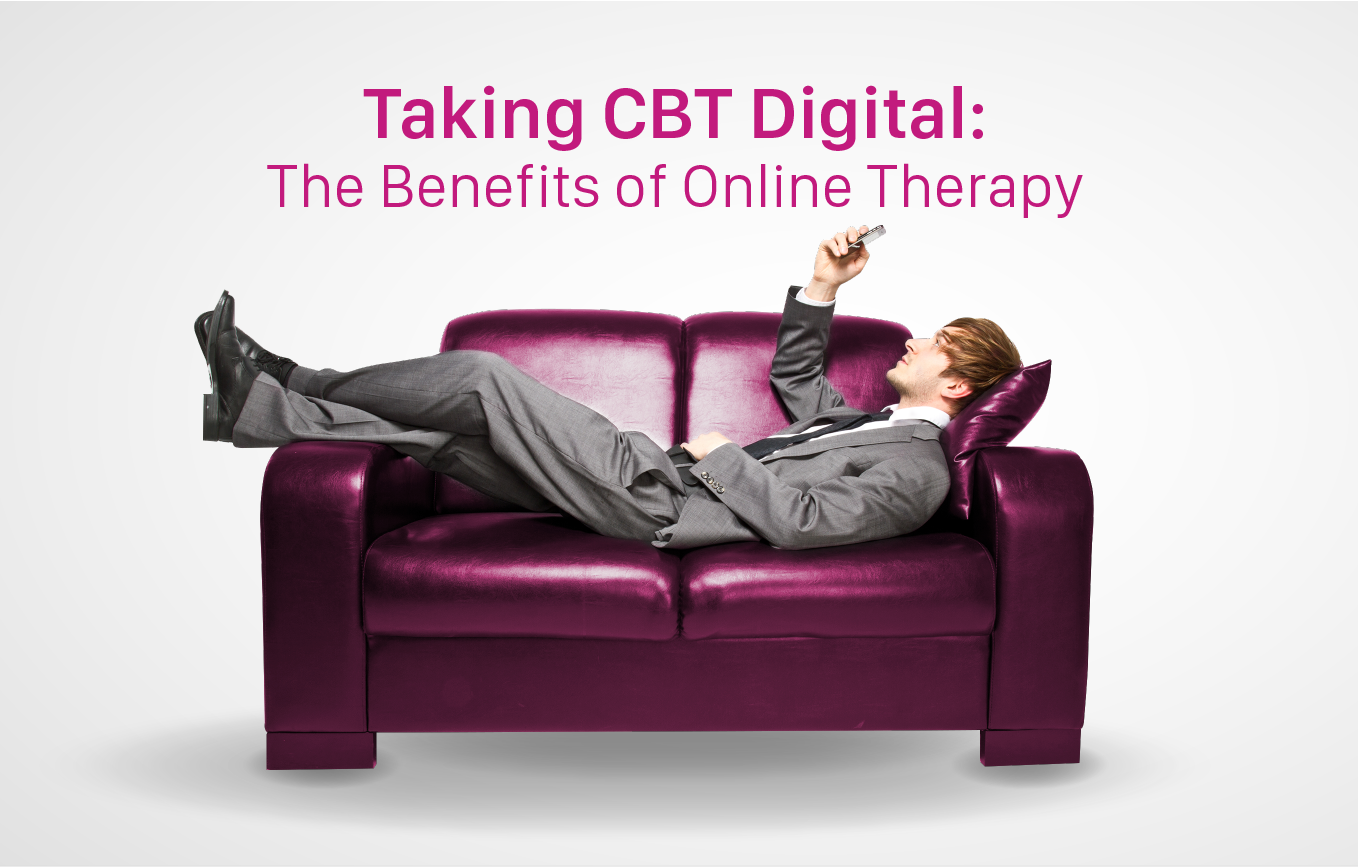 Even if two people are struggling with the same mental health issue, how they experience this could be markedly different. In a similar vein, how best to treat their concern could also take them down unique paths.
Some will feel most comfortable with the more traditional face-to-face discussion with a qualified therapist. Others might have a better experience over the phone. Nowadays, with the development of technology, online therapy sessions have become more and more common.
At Therapy For You, our online therapy service is provided through our affiliation with Ieso Digital Health. Online therapy has helped many people make positive changes to their mental wellbeing, who may not have made these steps through other routes to treatment.
In this article, we'll break down what online therapy is, how it works, and the benefits it offers over alternative treatment options.
What is online therapy?
At its core, online therapy is very similar to face-to-face therapy. You are still talking to a qualified therapist for a (typically) 60-minute session. The difference is that instead of travelling to their office and discussing this in-person, you are typing to each other online.
Think of it like a WhatsApp conversation or Facebook Messenger – this means you can discuss your thoughts and feelings with your therapist from any device and in any location, at any time of your choosing as long as you have access to the internet. This could be on your lunch break, on the train, or in the comfort of your own home.
Online therapy also employs Cognitive Behavioural Therapy (CBT), a form of psychological therapy that helps you to identify your thoughts and how these affect how you feel and act, and how gradually changing your thoughts can lead to improvements in both.
Plus, research has demonstrated that online CBT is just as effective as its face-to-face equivalent in treating a wide range of mental health concerns, including depression, anxiety, stress and phobias. This has provided a new, effective path to treatment to people less inclined to verbally discuss their problems with someone else.
How does online CBT work?
As noted, there is no difference in the content or quality of the CBT techniques you will develop through online therapy as opposed to a face-to-face meeting – the only difference is in the delivery method.
After contacting Therapy for You and discussing your experiences in the initial telephone assessment, if online therapy is considered an appropriate route to treatment you will be supported to set up a secure Ieso therapy account. This will be your portal where you have conversations with your therapist.
Appointments will be scheduled at a time and place to suit you throughout the week, and at that time you will simply need to login to your account, enter your secure online therapy room and wait for your therapist to message you to begin the session.
Through your conversations, your therapist will discuss how you're feeling, and help you understand how making changes to the way you think and act can gradually improve the way you feel.
After each session (typically 60 minutes long), you will be able to revisit the conversation with your therapist at any time, rather than need to remember every detail as you receive a transcript of your session. Your therapist may also message you between sessions to set tasks or 'homework' to keep you on the right route to feeling better, and can answer any questions or help with any problems you're encountering.
Who is Ieso Digital Health?
Ieso Digital Health is the developer of the online therapy system we offer at Therapy For You. Their solution has helped over 30,000 NHS patients improve their mental health and wellbeing, with 91% of patients saying that they would recommend it to a friend who was struggling.
The combination of Ieso's software and the dedication of our therapists has been received positively, giving us the ability to support many who may not have felt comfortable engaging us through another treatment path.
What types of mental health concerns can online CBT help treat?
CBT has been well-established as a technique to improve how we respond to a variety of mental health problems, including:
Depression

Anxiety

Stress

Panic attacks

Phobias

Obsessive compulsive disorder (OCD)

Low self-esteem

Anger
As well as these long-term, underlying conditions, online CBT is equally as effective at helping you respond to events or changes in your life that negatively affect your mental wellbeing, such as:
A loss, be it the passing of a loved one, losing your job, or the end of a relationship

Feelings of low mood after becoming a new parent

Being diagnosed with an illness or other health condition
As mentioned earlier, both online CBT and face-to-face CBT have proven equally as effective in helping people manage and overcome these conditions. With that in mind, it simply depends on which you would feel more comfortable proceeding with in your situation.
Who would benefit from online therapy?
So, why would you decide to take an online therapy route instead of meeting with your therapist in person? Online CBT could be particularly helpful in the following circumstances:
You would find it difficult to travel to a therapist every week

The hours of your work day or your caring/parenting commitments make it difficult to visit a therapist at these times

You aren't very comfortable opening up verbally to someone else

You actively talk to family and friends through online chatting services

You would feel under pressure being in the same room as your therapist

You prefer to take time to reflect on your answers before sending them
If any of these scenarios sound familiar to you, then an online therapy session could be a more suitable route to therapy than one of the more traditional alternatives.
On the other hand, if you find it difficult to express yourself in writing as opposed to speaking, talking to a therapist face-to-face or over the phone could be more helpful in allowing your therapist to understand your concerns and present the most effective course of action.
However, don't be put off if you believe you are a slow typist or you've never tried an online chatting service before – the therapist will be understanding in waiting for your responses, they won't be judging your writing style and will be much more interested in what your writing rather than how you write and the Ieso system makes things really easy to get to grips with.
What are the advantages of online therapy?
While in essence online therapy is no different than face-to-face CBT, with the overarching goal of addressing how you think and how this impacts the ways you act and feel, the online approach does offer several unique benefits.
Therapy at a time and place to suit you
Above all else, as long as you have access to the internet, online therapy sessions can be scheduled to take place at a time and place to suit you.
Whether you'd like to talk to your therapist while on public transport, on a park bench or sitting on your couch at home, these sessions give you the freedom to decide when and where is most convenient to you.
This in turn will make the sessions more enjoyable and, consequently, more likely to prove successful.
Minimal waiting times
In typical circumstances, the time between referral for online therapy and your first appointment is less than two weeks, meaning no long waits on your path to feeling better.
Less daunting
Many find online therapy to be less daunting or intimidating to speaking to a therapist in person. They can feel more relaxed and secure in an environment they're familiar with, which makes them more willing to open up about how they're feeling.
Secure access to therapy
Access to our digital platform is completely secure, so you can feel assured that your conversation stays between you and your therapist.
Thinking time for responses
By typing your responses to your therapist, you can be more considered and thoughtful about how you answer, rather than potentially feel under pressure to immediately answer in a face-to-face discussion.
Revisit conversations
As all conversations between you and your therapist are saved, you can log in and review what was said at any time. This is often better than relying on your memory in an in-person meeting, and it helps your therapist recall what was discussed and what your next steps should be.
Could online therapy help you?
We hope that this insight into online therapy has opened your eyes to a different route to treatment. At Therapy For You, we understand that your path to feeling better could be far different to another person's, even if you are struggling with the same problem.
With online therapy, you can speak to one of our qualified therapists on any device, at a time and place to suit you.
If you'd like to learn more about this and our other ways to get help, or visit our contact page to discuss if online CBT is right for you.
---
Crisis link