>
True Therapy Stories: EMDR and Trauma Therapy
True Therapy Stories: EMDR and Trauma Therapy
---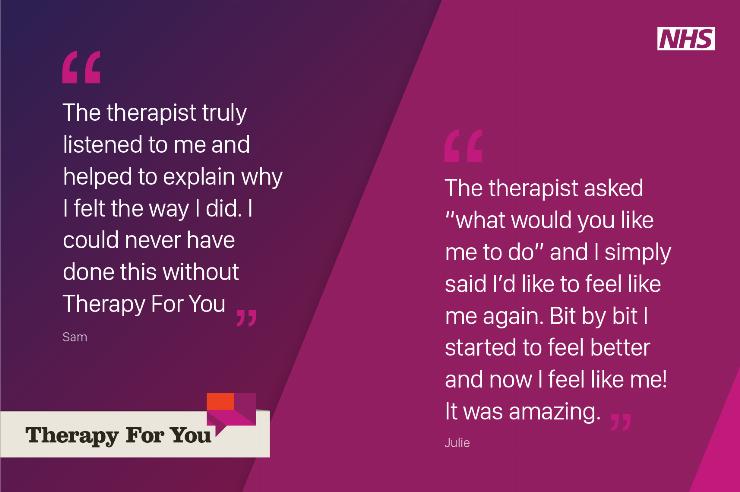 We'd like you to meet Sam and Julie. Two women who have changed their lives through therapy sessions with Therapy For You. Real patients, real stories and real examples of how Therapy For You is helping people in South Essex every day.
Meet Sam
Sam came to Therapy For You after trying multiple techniques to help her combat a severe phobia of needles. Sam had tried aversion therapy, counselling and Cognitive Behavioural Therapy, but none of these had worked. Sam later developed a medical condition that required regular self-injections of medication, meaning if she didn't overcome her phobia, Sam's life was at risk.
Sam's phobia stemmed from a traumatic childhood experience of an injection. The negative thought processes and fear caused by this experience had embedded in her mind and caused a flight response from anything that involved needles.
Meet Julie
Julie was involved in a car crash that left her emotional and uneasy when driving. As driving is at the core of Julie's profession , without overcoming the anxiety caused by the accident, Julie's career wasat risk .
Julie was diagnosed with PTSD (Posttraumatic Stress Disorder) and came to Therapy For You not only to overcome her anxieties with driving, but to get her back to feeling like herself.
How Therapy For You helped change their lives
Both women live in South Essex, where Therapy For You operates, and after their initial telephone assessments they agreed to 1-1 therapy. With Sam and Julie's problems stemming from traumatic experiences, their therapist decided to use a new treatment offered by Therapy For you, EMDR (Eye Movement Desensitisation and Reprocessing), which is effective for phobias, PTSD, depression, anxiety and much more.
When we experience something traumatic, in some cases the mind doesn't fully process this information, leading to our thoughts and emotions becoming stuck and imprinted on our minds. The memory itself can become forgotten, but the painful feelings such as panic, anxiety, anger or despair are continually triggered in the present. EMDR helps create the connections between your brain's memory networks, enabling your brain to process the traumatic memory in a natural way.
When trauma is mentioned, we can often think about the worst kinds of experiences. But trauma can be caused by any situation that we find distressing or disturbing, such as divorce, loss of employment and bereavement.
It sounds great, but what does an EMDR session look like?
Both Sam and Julie, met with their therapist for a course of sessions. During their initialassessment , the therapist worked to understand the root cause of their respective traumas.
In Sam's case, this was her early childhood memory, while for Julie it was her recent car crash. They discussed how these memories made them feel and what thoughts were associated with them.
In order to recover from the trauma, both women were brave enough to face it head on. They worked together with the therapist to reprocess their experiences and turn pain and distress into calm and in control.
During an EMDR session, the therapist would rapidly move their fingers across Sam and Julie's line of vision, and they followed this with their eyes as much as possible. This rapid eye movement triggers a different section of the brain allowing adaptive pathways to open. Should a client have a visual impairment hand taps can be used instead.
These steps are repeated until there is no distress associated with memories of the traumatic experience. The therapist can evaluate progress at every stage and work at a pace suited to each individual.
What about Sam and Julie now?
Sam and Julie have now finished their sessions at Therapy For You with some fantastic results. Sam is now able to administer her own injections for her medication and, to celebrate her life changing breakthrough, now has a tattoo! "I never would have done this without Therapy For You" she told us, "The therapist really listened to me and helped me understand why I felt the way I did."
Julie is now back driving and told us, "It was amazing and I couldn't recommend Therapy For You enough. Bit by bit, I started to feel better and now I feel like me again!".
Their therapist could not be more proud of her clients' achievements. Both women were extremely brave to face their problems head on and overcome the challenges to reaching their goals.
What about you?
Therapy For You offers many types of therapy for those over the age of 18 and living in Southend, Rochford, Rayleigh and Castle Point and throughout Basildon, Brentwood and Billericay.
We offer online courses, group courses and 1-1 therapy including counselling, interpersonal therapy, dynamic interpersonal therapy, couples counselling, Cognitive Behavioural Therapy and EMDR. We offer treatment for various mental health issues including depression, Post and Ante Natal Depression, Anxiety, Stress, Phobias, Panic Attacks, Weight Management and many more. These therapies can be delivered face to face, over the phone or online. It's whatever suits you best.
Our service is available through self-referral, starting with an initial telephone assessment with one of our qualified therapists. They will be able to talk you through your choices for treatment and how best we can help you. Simply call us today on 01268 739128.
Facing mental health issues doesn't make you weak, quite the opposite in fact. Acknowledging them in the first place makes you strong, and choosing to address them even stronger. Take those first steps today and get in touch to see how we may be able to help you. Sam and Julie did, and it changed their lives.
---
Crisis link