>
The importance of hobbies and what to expect from therapy
The importance of hobbies and what to expect from therapy
---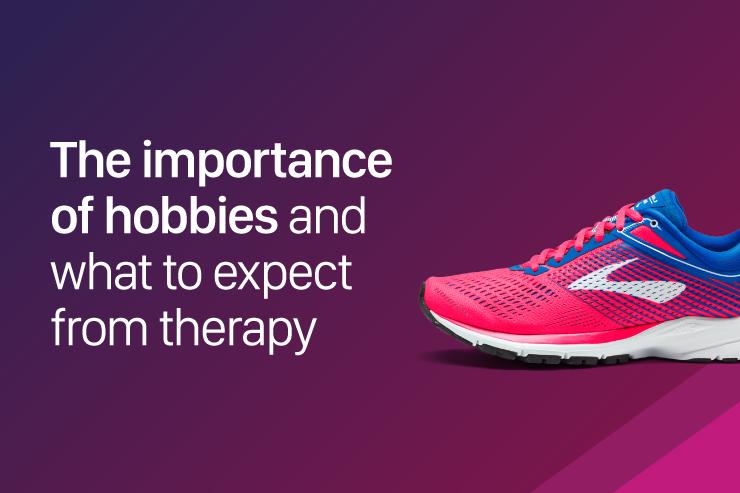 With so many of us having been (and some continuing to be) isolated as a result of lockdown, lots of us have been unable to indulge in our favourite pastimes that involve leaving the home. This has left many feeling low, stressed, anxious or depressed.
For those that might be considering therapy but are nervous about what to expect, we wanted to outline a few things to put your mind at rest:
#1 You can go at your own pace
When it comes to therapy, there's no set timeline and you will be under no pressure to open up or take any steps you're not comfortable to do yet. Talking therapy will encourage you to do certain things, but only as and when you are ready.
#2 You can do it your way
Prior to COVID, most of our appointments were face-to-face. We now offer many over video calls. We also provide telephone appointments and can even offer therapy through a dedicated messenger platform.
We understand that everyone's route to therapy may be different, and we do our best to make numerous options available to you. If you would prefer not to speak to someone at all, you can take a look at our online video courses, where you will be guided by a therapist through a range of exercises and your progress will be monitored via a regular questionnaire.
#3 You will not be judged
As qualified therapists with many years of experience between us, we hope you can believe me when we say our only goal is helping you to feel better.
Whatever you tell us (within certain boundaries) remains confidential and we are never judgmental or critical of any decisions you may have made. We are only here to help.
Getting help through your hobbies
The subject of hobbies occasionally comes up during therapy exercises, and the impact they have on our lives.
When we refer to hobbies, we don't necessarily mean activities such as playing tennis or mountain climbing. It could be as simple as listening to music, reading a book, cooking a healthy meal or going for a walk. The things that bring us joy are some of the most powerful influences on our wellbeing, and their absence in our lives can leave an emotional void.
While not all of our pastimes are available right now, the importance of finding enjoyable things we can do safely is paramount to keeping our wellbeing in check. Hobbies highlight our interests and strengths and enrich our lives in ways we can't always understand.
If your thinking is stopping you from taking part in your hobbies, you should take a moment to reflect on your expectations:
Are you afraid you'll be disappointed?

Are you anxious about resuming a hobby after so long?

Are there barriers?
Take some time to determine whether your thinking could be standing in the way of your enjoyment. If it is continuously putting up barriers to feeling better, then therapy can help guide you on the right path.
We offer a range of courses, available online, on the phone, via video call or through a dedicated messenger platform. Get in touch and we will help you find the right route for you.
---
Crisis link