>
A life-changing experience – Cora's journey in therapy
A life-changing experience – Cora's journey in therapy
---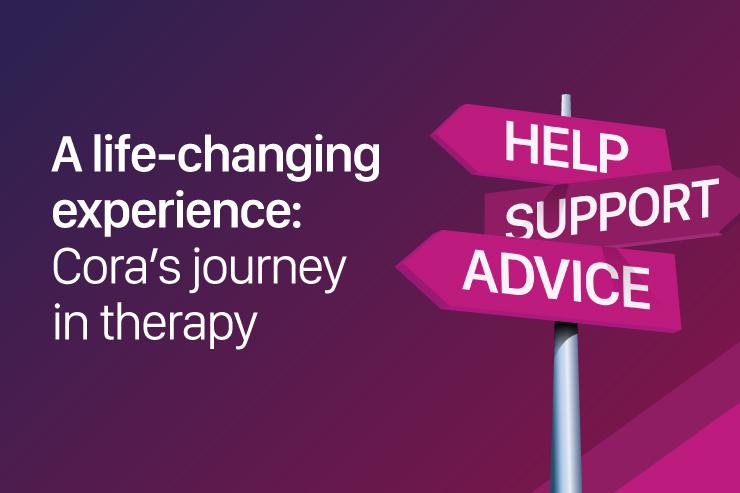 Our recognition of mental health and how it affects our lives is greater than ever before, and is growing with each passing year.
More and more people are conscious of the need to look after our mental wellbeing, and are actively encouraging others to reach out for help when they need it, be it on social media or among friends and family.
This is a great trend that we hope continues to grow. However, in spite of this stronger understanding of our mental health, many still find taking that first step into therapy a struggle.
Each person's situation is unique, but common reasons for this reluctance can include:
Not wanting to show any weakness

Scepticism towards therapists and therapy in general

Feeling uncomfortable about sharing personal matters with a stranger

Worrying too much about other people's welfare rather than your own

Believing that your problems are 'just a phase' that will clear up over time

Not wanting to worry or alarm your friends and family

Not believing your issue is 'worthy' of a therapist's time or resources
These are all totally understandable, especially if you have never attended a therapy session before, or you have had a negative experience with therapy in the past.
But whether you relate to the above reasons, or there is something else holding you back, not addressing your problems may leave you in a never-ending cycle of distress, keeping you away from new experiences, fun pastimes and meaningful relationships.
If you are in this situation, and would like to know how therapy can lead you to feeling more confident and assured, it may be helpful to learn from someone who has been in your shoes before, and how they benefited from taking that challenging first step.
Below, we share Cora's* story, and how her experience with Therapy For You inspired a remarkable turnaround in her mood.
(*Name changed to protect person's anonymity)
Life before therapy
Cora and her young son were starting afresh after leaving an emotionally and financially abusive relationship when she began to notice things weren't right.
"I found myself not trusting anyone, or even myself," said Cora. "Although I had been safe for a time and had begun a new life, there was always a drowning and persistent pain, which would cause me to sob almost every day."
Cora would find herself struggling on a regular basis, which often left her alienated from others, fatigued, and unable to find pleasure in the things she used to love.
"Some days I felt like a super-woman who could do anything. But most of the time, a little stress would start a spiral of exhausting negative thoughts and emotions," explained Cora.
"I fought it, tried to dismiss it by taking walks, playing with my child, or doing housework. But my feelings often kept us in our home for days and weeks at a time. I would sit almost paralyzed on the sofa, closed in my own thoughts of situations that could go differently."
"I felt so lonely, disconnected from people, breathless, and even my favourite food didn't bring me any joy. I thought: "What is wrong with me? I don't think I am crazy, but I won't be able to make it through this." I simply didn't feel alive."
Attending therapy
Initially, Cora was hesitant about the prospect of seeing a therapist, even though she knew she was in a tough situation.
"A year ago, if I considered therapy, I would have said something like "It must be super awkward, and why should I spill my problems to an absolute stranger?" I made out that I didn't have time for it and moved on," Cora discussed.
Even after making the decision to reach out to Therapy For You, it took a while for Cora to embrace this approach. But, after a while, it became comfortable, familiar and, most importantly, beneficial to her wellbeing.
"Going and speaking to a therapist was something extremely daunting at first. It took about three sessions to feel comfortable and express myself. But after this became natural, it turned out to be a truly life-changing experience – diligent but also rewarding," stated Cora.
At Therapy For You, we fully understand how difficult early therapy sessions can be. Someone may be worried about crying in front of a stranger, or concerned about sharing potentially embarrassing personal stories. They might not think the therapist won't take their problems seriously, or that their problems are not serious enough to demand a professional's time.
This is why our therapists always look to put people at ease, and allow them to proceed at their own pace. The early sessions allow for both sides to get to know each other, creating an atmosphere where people are more comfortable exploring personal situations, which will be important to instigate long-term change.
For Cora, these helped her gradually address how she was feeling, and discover potential short and long-term reasons behind this:
"My therapist helped me explore the source of many seemingly unrelated problems going back to childhood, which affected my decisions and behaviour later in my life," said Cora. "The therapist offered a warm and shielded place to heal, while presenting a very realistic view of the past and present."
Over the course of her time with Therapy For You, Cora and her therapist were able to identify unresolved issues dating back to her childhood, such as the serious illness of one of her parents, which forced Cora to embrace adult responsibilities from an early age.
This, combined with traumatic emotional and financial abuse, and postponed Postnatal Depression amplified her mental health struggles, as did a strong sense of responsibility that did not allow her to completely disconnect from her ex-partner.
A brighter future
Cora went through an episode of of Cognitive Behavioural Therapy (CBT) to address anxiety, depression and PTSD. At the end of this journey, she now feels in a much better place than she was at the start, looking towards the future with optimism rather than dread.
"I am no longer lonely, although I have no partner," explained Cora. "I enjoy the everyday life of being a parent. I am not crazy, and my physical pain has slowly disappeared."
"My home and my child flourish with joy and happiness, and I've found pleasure in connecting with people again."
"And most importantly, feeling this way is now very genuine and almost effortless."
Take your first step to feeling better
Cora's story is one of many who have initially resisted the option of therapy, only to gradually see the incredible difference it has made on their life.
At Therapy For You, we're committed to delivering professional support promptly, when and where it's needed. We break down the barriers to receiving mental health, offering a range of treatment options to ensure everyone who reaches out to us gets the help they are seeking.
"Therapy For You provides flexible scheduled sessions around your busy life. It doesn't interrupt it; it is next to you, gently guiding you week-by-week through your days," explained Cora.
"You can come and speak out about the smallest of your problems, such as "I don't feel like getting out of bed most days." No matter what obstacles I'm facing that day, I feel more confident I can handle them after attending their sessions."
We'd like to thank Cora for sharing her experience with us, and if you have been on the fence about therapy until now, we hope that her story helps you find the courage you need to take your first step to feeling better.
If you are ready to take that step, please get in touch with our team today. Our free, NHS-backed talking therapies are available to residents in Colchester, Tendring, Southend, Castle Point & Rochford.
South East Essex – 01268 739 128
North East Essex – 01206 334 001
---
Crisis
link