>
When Celebs Open Up About Mental Health
When Celebs Open Up About Mental Health
---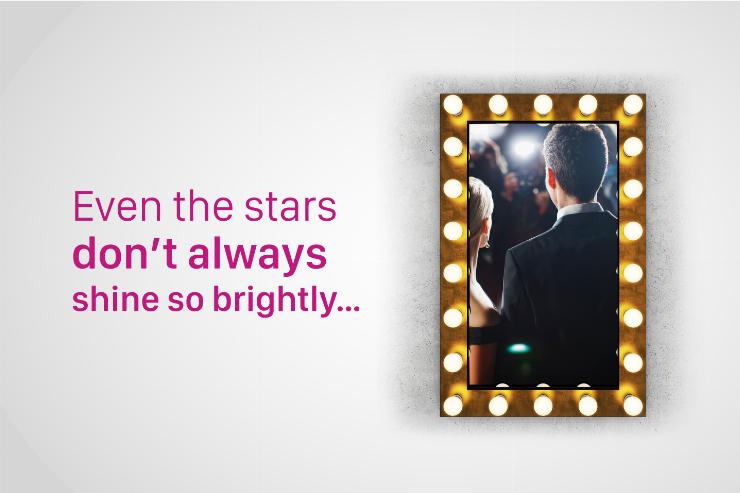 Physical illness doesn't care whether or not someone's a celebrity, and mental illness is just as unfussy about who it affects. It's like comedian and mental health campaigner Ruby Wax once said,
"1 in 5 people have dandruff. 1 in 4 people have mental health problems. I've had both."
It's easy to imagine that the grass is greener for those whose dreams of fame and fortune have come true, but it's often not the case. It turns out that everyone is equally susceptible to experiencing struggles with their psychological wellbeing.
For some, the feeling that happiness is just over the next hill stays with them, and they struggle to find satisfaction in the here and now. Others keep climbing higher and higher to escape certain issues only to find they have carried them along with them. We're taking a look at some of the issues affecting our best loved stars.
Adele: Anxiety.
"I'm scared of audiences. One show in Amsterdam I was so nervous and just escaped through the fire exit. I've also thrown up a couple of times. I don't like touring, I have anxiety attacks a lot"
You'd imagine that 15-time Grammy award winner and multi-platinum selling artist Adele would feel pretty reassured of her own popularity.
In the face of such recognition, it's hard to imagine that she could be in any doubt that her talent is appreciated, her work valued and that she will always be warmly received by audiences the world over.
But the reality is that anxiety doesn't account for plaudits, sales figures or other evidence. Anyone can suffer anxiety, but no one has to accept it. Therapies such as Cognitive Behavioural Therapy (CBT) can help with techniques and coping mechanisms that help sufferers to overcome their symptoms.
Adele is far from alone among popular performers that experience anxiety or panic attacks. Will Young, Dakota Johnson, Zayn Malik and cricketer Marcus Trescothick have all opened up about their struggles with anxiety.
David Beckham: Obsessive Compulsive Disorder (OCD)
"I'll go into a hotel room. Before I can relax, I have to move all the leaflets and all the books and put them in a drawer. Everything has to be perfect"
There isn't time and space enough here to list Beckham's sporting achievements, let alone what he has achieved as a fashion icon, brand ambassador, humanitarian and charity advocate.
One worry we would all love to see removed from our lives is concerns over our financial security. We imagine that if that uncertainty were to be taken away that our minds might feel completely unburdened.
Mr Beckham is unlikely to have his card declined anytime soon, so why does concern over tiny aspects of his environment cause him such distress? The fact is that OCD has little to do with external obstacles, and a lot to do with internal ones.
As well as David Beckham, Niall Horan, Lena Dunham and Leonardo DiCaprio have all at one time suffered with compulsive behaviours. Fortunately, OCD responds really well to Cognitive Behavioural Therapy, an approach that informs the course content offered by Therapy For You.
Madonna: Sleep Problems
"Actually, one of my assistants just found one of my journals from 1991. I'm complaining the same way about not being able to sleep in 1991 as I am right now. Like, some things never change… sleep's never been an easy thing for me…"
The long-standing nature of Madonna's sleep issues as she describes here is a real concern. Sleep is so important for our minds and bodies, so often we find that the conditions we seek to treat at Therapy For You are interconnected, and helping to improve our sleep habits can have also help if we are struggling with anxiety, low mood, poor eating habits and so on.
Madonna puts some of her insomnia down to long nights in the studio, gruelling tour schedules and early mornings with the kids. Believe it or not, many of us may find ourselves in a more fortunate position than Madonna, in that we are more able to organise regular routines for ourselves and our families that allow for better sleep habits.
Developing techniques and habits to improve our sleep routine are just some of tools you can learn with Therapy For You.
Other celebs known to suffer with sleep problems include Jennifer Aniston, Lady Gaga and Ryan Reynolds.
Naomi Campbell: Anger
'Anger is an emotion. There were things I had to deal with. You have to deal with it.'
The supermodel's well-known outbursts have made her the subject of criticism in the press, but anger problems often have two victims, the target of the outburst and the person struggling with anger issues themselves. Struggling to keep anger under control can have profound effects on relationships and our personal lives.
Problems with anger can arise from traumatic experiences from the past, particularly things that happened during childhood, addiction, bereavement, loss of a job, retirement, the end of a relationship, sleep problems or physical conditions affecting the brain.
In any case, help is out there, and CBT can be a particularly effective treatment for easing anger issues.
Stacey Solomon: Low-mood after childbirth.
"I felt really trapped, like I'm going to be terrible, I'm not going to be able to do this, I can't live up to what the responsibility is."
Often referred to as post-natal or post-partum depression, it's very common for new mums and dads to feel negative emotions after childbirth. It's a well-documented phenomenon that the medical profession has been aware of since the mid-nineteenth century, and yet news that a celebrity is suffering can still be met with surprise.
Maybe we imagine that wealthy celebrities will be surrounded by hired help and that this will somehow make them immune to difficult feelings. When Stacey Solomon gave birth to her first son Zachary, she had yet to taste fame, and yet she also struggled following the birth of second son Leighton, which goes to show that Stacey's improved circumstances were no defence against psychological difficulties.
Low-mood after childbirth is caused by a complex combination of biological, psychological and environmental factors. Just because the environmental side of things may be less of a problem where resources like money and assistance are abundant, it doesn't mean those other factors won't come into play.
Stars that have spoken about their struggle after giving birth include Lena Heady, Gwyneth Paltrow and Brooke Shields.
Elton John: Bulimia
"As soon as I said ['I need help'], I knew I was going to get better, and I was determined to get better. But it was just a relief to be able to say those words"
A quarter of anorexia and bulimia sufferers are men, and include singer-songwriter Sir Elton John. Sir Elton has spoken of struggling with bulimia for 16 years before tackling it for good, along with his cocaine addiction, through rehabilitation in 1990.
While anorexia and bulimia represent serious eating disorders, there is a broad spectrum of emotional eating problems that men and women from all walks of life may encounter at some point in their lives. If you feel that your feelings are having an effect on your relationship with food, it can be a good idea to explore and learn about emotional overeating.
Other celebrities that openly discuss their difficult relationships with food include Russell Brand, Nicole Scherzinger, Kate Winslet and Thandie Newton.
Stormzy: Depression.
"[Depression] was a world that was so alien to me. I just used to think, you get up and march on. So for me, I felt that I needed to address that, what I was going through."
When Stormzy, a young man on top of his game from the world of Hip-Hop & Grime, spoke publicly for the first time about his struggles with depression, it was a watershed moment in the music community and beyond.
One of the biggest battles going on right now in the realm of mental health is the struggle to bring acceptance and understanding around male mental health issues. The cultural legacy of ideas around not showing weakness, 'manning' up, keeping a stiff-upper lip, stoicism etc. have meant that masculinity has become blurred with not sharing our problems – and with fatal consequences. In recent years, males have accounted for three-quarters of suicides in the UK.
Stormzy's bravery in opening up about his struggle is a huge step, and one that our culture needs to build on if we are to get better at tackling the issue of depression. As soon as we recognise the problem in ourselves or others, it's a good idea to seek NHS help, through your GP or an Improving Access to Psychological Therapies (IAPT) service like Therapy For You.
Other celebrities that have spoken openly about their experiences with depression include Sophie Turner, Ruby Wax, J K Rowling, Cara Delavigne and Colin Farrell.
Professional athletes have also opened up the conversation about depression, including Danny Rose. We will be running an exercise group with Southend United FC later this year, co-delivered with their physios to support people's wellbeing. Watch this space for further details.
Are they really living the dream?
So why hasn't achieving fame and fortune solved all the problems faced by our celebrities?
Looking at happiness as a barometer for mental wellbeing, it turns out that most people have what psychologists call a "happiness set point", that doesn't tend to change very much in relation to exterior factors like wealth, possessions or status. So even when people achieve the outward trappings of success, they're unlikely to significantly lift their general level of happiness in the long term. As Jim Carrey said,
"I think everybody should get rich and famous and do everything they ever dreamed of so they can see that it's not the answer"
Feel good inside and out
The good news is that, while it's almost impossible to alter our happiness set point through external factors, it CAN be shifted through working on our internal psychological landscape. Undertaking courses to address known issues such as low mood, anxiety or phobias can form part of that work to transform our inner selves. Even if you don't identify with any specific problems, you can always improve your wellbeing with practices like mindfulness meditation that can alter your internal landscape and help raise that happiness set point.
Make that change
If you want to take action to combat low-moods, to learn tools and techniques to ward off anxiety, to strengthen your resilience, to improve your mood, be more productive, more creative – whatever your personal goals are, Therapy For You has a treatment that can help.
To find out more about treatments available from Therapy For You, contact us to book a telephone appointment with one of our qualified therapists.
If you are at a very low point and need immediate help, visit our crisis page or contact your GP for an emergency appointment.
---
Crisis link